When Flora ProActiv tested over 70 NHS staff's cholesterol levels at the Camden & Islington NHS Foundation Trust and Kingston NHS Foundation Trust, 24% found they had elevated cholesterol – a major risk factor for Coronary Heart Disease (CHD). After learning their number, staff committed to taking part in the Flora ProActiv 21 Day Challenge and took steps to lower cholesterol with diet and lifestyle changes.
For 3 weeks, staff undertook regular exercise, ate a healthy, balanced diet consisting of cholesterol lowering foods and consumed Flora ProActiv every day (1 mini drink or 3 servings of spreads or milk per day) which contain plant sterols – proven to help lower cholesterol levels by 7-10% in 2-3 weeks*. After 21 days, 88% of staff successfully reduced their cholesterol level.
One success story was 56-year-old Sue Bellamy, a nursery nurse at the Kingston Hospital NHS Foundation Trust. Sue knew the importance of knowing her cholesterol number as she had a family history of high cholesterol and her father had suffered a heart attack. Despite this, and having previously tested for high cholesterol, it had been nearly a year since her last reading. After learning she had elevated cholesterol, Sue took action and signed up to the 21 Day Challenge for help and tips to lower cholesterol. In just 3 weeks, her total cholesterol went from 6.38 to 5.43 – a reduction of 15%! You can read more of her story here.
"Knowing your cholesterol number is an important part of understanding your risk of CHD. High cholesterol has no obvious signs or symptoms, but the harm it can do can be fatal," says HEART UK Chief Executive Jules Payne. "I am happy to see that so many of the staff at these two trusts took the important step of knowing their cholesterol level and that those who did have high cholesterol made a commitment to their heart health and participated in the 21 Day Challenge to lower their cholesterol".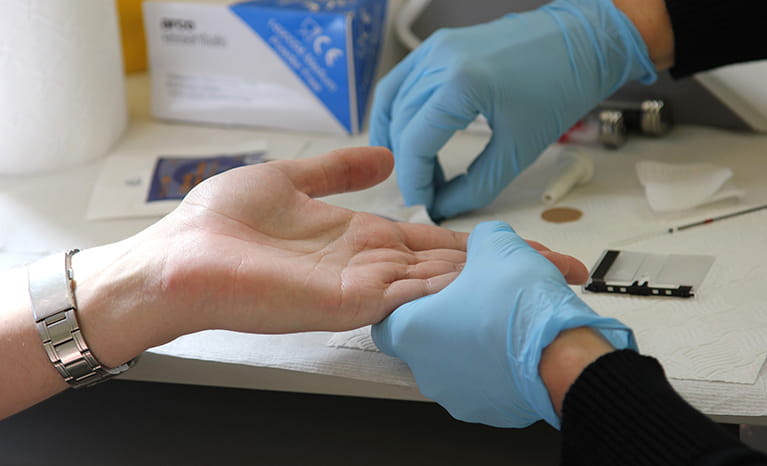 Do you know your cholesterol number? Join your fellow colleagues and recognise the benefits and take a reading today!
To help provide your patient with facts, support and motivation to help them successfully lower elevated cholesterol, download a FREE Cholesterol Lowering Starter Kit.