Prosciutto, Chilli and Rocket Linguine
Yummy linguine with a little spice, prosciutto and rocket
Cooking time

15 minutes

Prep time

15 minutes

4 portions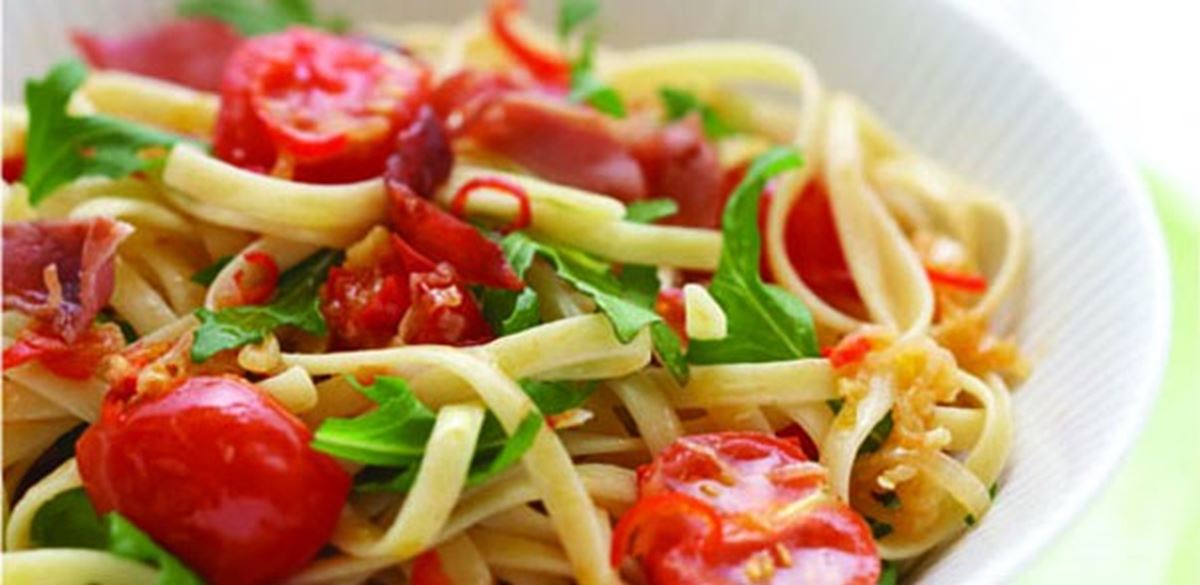 Ingredients
375 grams linguine
4 thinly sliced prosciutto
20 grams Flora ProActiv buttery spread
2 cloves garlic chopped
4 spring onions trimmed and sliced
2 small red chillies sliced
2 tbsp no-salt-added tomato paste
3 large tomatoes sliced
1 1/2 cups baby rocket
Nutrition Facts
| | |
| --- | --- |
| Energy (kcal) | 483 kcal |
| Energy (kJ) | 2022 kJ |
| Protein (g) | 22.5 g |
| Carbohydrate incl. fibre (g) | 79.4 g |
| Carbohydrate excl. fibre (g) | 73.8 g |
| Sugar (g) | 8.0 g |
| Fibre (g) | 5.6 g |
| Fat (g) | 7.6 g |
| Saturated fat (g) | 2.2 g |
| Unsaturated fat (g) | 3.2 g |
| Monounsaturated fat (g) | 1.2 g |
| Polyunsaturated fat (g) | 2.0 g |
| Trans fat (g) | 0.0 g |
| Cholesterol (mg) | 21 mg |
| Sodium (mg) | 623 mg |
| Salt (g) | 1.55 g |
| Vitamin A (IU) | 1722 IU |
| Vitamin C (mg) | 36.1 mg |
| Calcium (mg) | 59 mg |
| Iron (mg) | 4.15 mg |
| Potassium (mg) | 706 mg |
Instructions
Cook linguine according to pack directions without using salt and drain.
Heat a non-stick frying pan over a medium heat and cook prosciutto until crisp. Set aside.
Add Flora pro-activ to the pan, stir in the garlic and onion and cook until soft. Add chilli and tomato paste and stir for 1 minute. Stir in the tomatoes and cook until hot. Add cooked linguine and stir until hot. Remove from the heat and stir in the rocket.
Serve into individual bowls. Break up prosciutto into smaller pieces and place over linguini.
Add extra tomatoes for a juicier sauce.