Muesli Crisp Slice
Great for breakfast on the go
Cooking time

20 minutes

Prep time

10 minutes

20 portions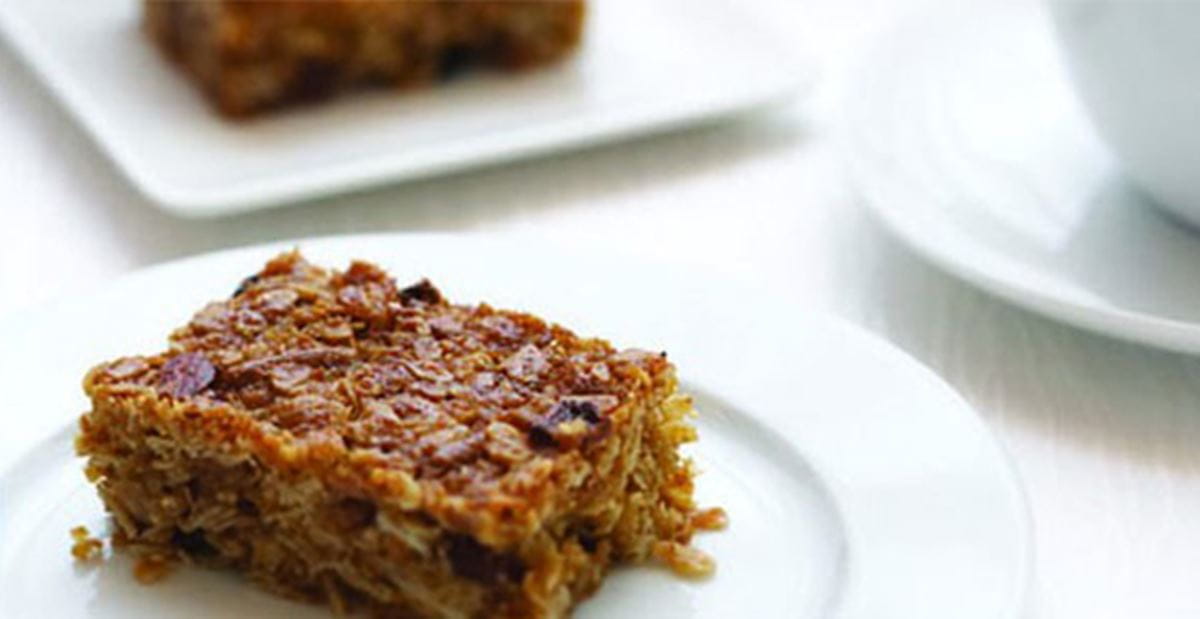 Ingredients
1/2 cup brown sugar
1 tbsp golden syrup
100 grams Flora ProActiv buttery spread
2 cups natural swish style muesli
2 wheat breakfast biscuits crushed
Nutrition Facts
| | |
| --- | --- |
| Energy (kcal) | 130 kcal |
| Energy (kJ) | 543 kJ |
| Protein (g) | 2.4 g |
| Carbohydrate incl. fibre (g) | 24.2 g |
| Carbohydrate excl. fibre (g) | 22.4 g |
| Sugar (g) | 12.4 g |
| Fibre (g) | 1.8 g |
| Fat (g) | 4.2 g |
| Saturated fat (g) | 0.8 g |
| Unsaturated fat (g) | 3.2 g |
| Monounsaturated fat (g) | 1.6 g |
| Polyunsaturated fat (g) | 1.7 g |
| Trans fat (g) | 0.0 g |
| Cholesterol (mg) | 0 mg |
| Sodium (mg) | 63 mg |
| Salt (g) | 0.16 g |
| Vitamin A (IU) | 315 IU |
| Vitamin C (mg) | 0.0 mg |
| Calcium (mg) | 4 mg |
| Iron (mg) | 2.21 mg |
| Potassium (mg) | 128 mg |
Instructions
Pre-heat oven to 180°C. Line a 28 x 18cm baking tin with baking paper.
Place brown sugar, golden syrup and Flora pro-activ in a saucepan over a low heat and stir until the sugar is dissolved. Allow to cool.
Place muesli and crushed biscuits in a mixing bowl. Add the cooled melted mixture and mix well. Empty the mixture into the prepared tin and press down evenly and firmly.
Bake for 15 minutes before turning the tin around. Bake for a further 5 minutes or until golden brown. Cool in tin before transferring to a wire cooling rack.
Add some sultanas for some extra taste.