The ProActiv brand has been caring for heart health since 1962.
A few years later, in 2000, we used our scientific expertise to create ProActiv, a spread with plant sterols – clinically proven to lower cholesterol. We focus on real results and over 50 clinical studies have demonstrated the efficacy and safety of plant sterols in ProActiv's cholesterol-lowering products. We also focus on promoting the healthy side of life, since it takes positive lifestyle changes to make a lasting difference.

Keep reading to find out more about us and why you should join us on our cholesterol-lowering journey.
Our purpose: triumph over cholesterol
We are on a mission! Not just to give people cholesterol-lowering advice. Not just to tell them all about ProActiv's ingredients. Not even just to persuade them to buy us. But also, to help them change – to be a better them, to stick with it, to help make change last.
Our vision: cholesterol-lowering journey to a healthy heart
Elevated cholesterol levels are becoming the new norm for people around the world. As high cholesterol levels are a risk factor in the development of coronary heart disease*, following our cholesterol-lowering advice to maintain healthy cholesterol levels is a good way to help take care of your heart. ProActiv aims to inspire and support individuals throughout their own cholesterol-lowering journey with our products and healthy lifestyle tips.
ProActiv's cholesterol-lowering products
With a range of cholesterol-lowering products that can easily fit in your daily routine, ProActiv can help you reduce cholesterol levels.
Spreads** – ProActiv Buttery, ProActiv Light and ProActiv Olive Oil. All available in packs of 250g & 500g.
A bit more on plant sterols
Plant sterols naturally occur in small quantities in vegetable oils, nuts, seeds, grains, fruit, and vegetables. You can also find them (in greater concentrations) in ProActiv's products, like our spread with plant sterols, which include these helpful substances. In more than 50 clinical studies, plant sterols have been proven to significantly lower cholesterol*.
How to eat plant sterols
Plant sterols occur naturally in plant-based foods, but only in small amounts. The simplest way to eat enough plant sterols in food to help reduce cholesterol, is to enjoy products to which they have been added: ProActiv's cholesterol-lowering products contain the daily amount of plant sterols to achieve this*.
How does ProActiv work?
ProActiv contains plant sterols, and they work by reducing the amount of cholesterol absorbed by your gut. This in turn reduces the amount in your bloodstream, resulting in lower levels of LDL (bad) cholesterol. Over 50 clinical studies have proven that plant sterols, such as those in ProActiv products, actively lower cholesterol. Plant sterols are clinically proven to lower cholesterol by 7 to 10% in just two to three weeks*.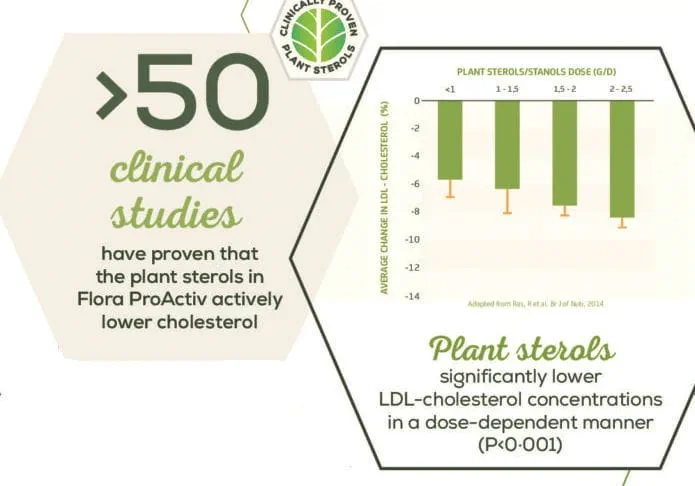 We are not alone
When it comes to over cholesterol, we are not alone. During our cholesterol-lowering journey, we have maintained relationships with some prestigious organisations in the UK to help our drive to improve heart health:
If you want to join us in this cholesterol-lowering journey, don't miss out on ProActiv's products and tips on lowering cholesterol and leading a healthy lifestyle.
**ProActiv is recognised as the number one spreads brand in cholesterol reduction (Nielsen data, Total Coverage MAT TY WE 23.03.19).